Chinese Foreign Minister Wang Yi on Saturday met with the visiting Thai Deputy Prime Minister and Foreign Minister Don Pramudwinai in Beijing.
Noting that the development of bilateral relations will not be affected by changes in the international situation or the domestic situation in Thailand, Wang, also a member of the Political Bureau of the Communist Party of China Central Committee, said it is believed Thailand will maintain stability and sustained development.
Wang said China is ready to deepen cooperation in various fields with Thailand, urging the acceleration of the construction of the China-Thailand railway and the China-Laos-Thailand railway connection lines, and joint efforts to crack down on transnational criminal activities, including telecom fraud. He also expressed China's readiness to continue supporting the building of the ASEAN community, supporting ASEAN centrality, and supporting joint efforts to build an economic growth center.
China is ready to work with ASEAN countries to speed up consultations on the Code of Conduct in the South China Sea, strive for the early formation of effective and substantive regional rules, and build the South China Sea into a sea of peace, friendship and cooperation, said Wang. He also pointed out that regional countries should also guard against forces outside the region provoking camp-based confrontation and encouraging the Cold War mentality, which will undermine the hard-won peace and stability.
Don said under the current situation of rising international and regional uncertainties, Thailand is willing to further strengthen dialogue and exchanges with China, deepen mutually beneficial cooperation in various fields, promote China-Laos-Thailand railway connection, and work for common development.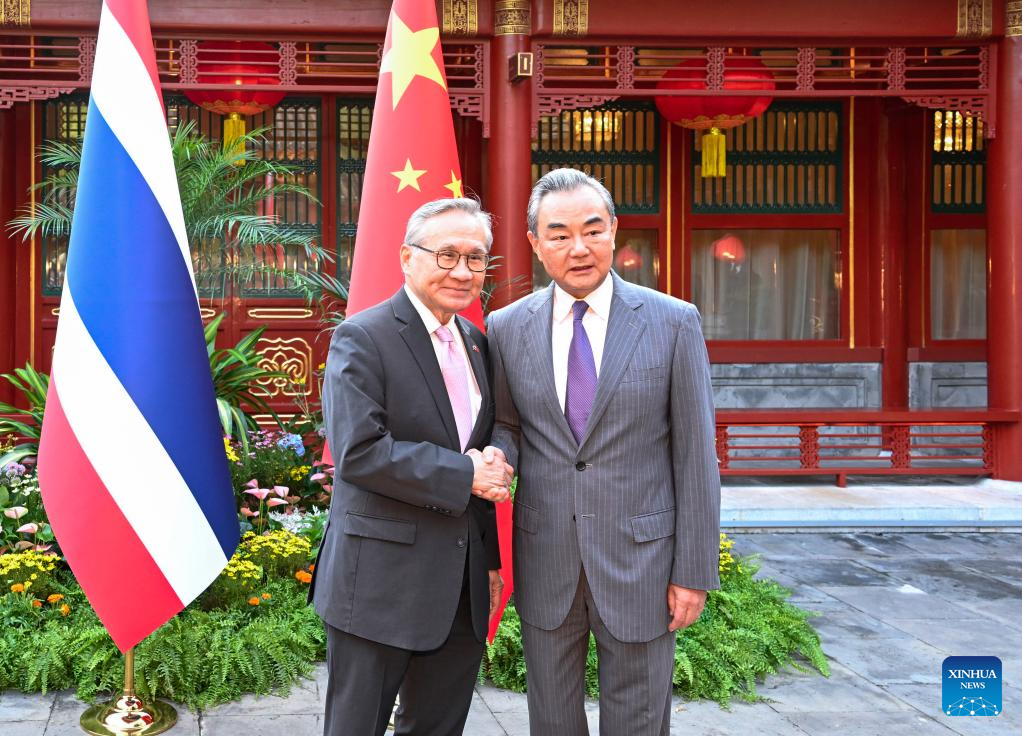 Chinese Foreign Minister Wang Yi, also a member of the Political Bureau of the Communist Party of China Central Committee, holds talks with the visiting Thai Deputy Prime Minister and Foreign Minister Don Pramudwinai in Beijing, capital of China, Aug. 19, 2023. (Xinhua/Shen Hong)