Cambodian Prime Minister-designate Hun Manet met with visiting Chinese Foreign Minister Wang Yi in Phnom Penh on Sunday, with the two sides pledging to promote the China-Cambodia comprehensive strategic partnership of cooperation.
Hun Manet said the realization of peace and stability in Cambodia has benefited from China's strong support, and the rapid development it has achieved is inseparable from China's selfless help.
He thanked China for attaching great importance to promoting the Cambodia-China comprehensive strategic partnership of cooperation.
Hun Manet said the new government of Cambodia will maintain the continuity and stability of its domestic and foreign policies in accordance with the major policies formulated by the ruling party, unswervingly develop the friendship with China, and consistently carry forward the traditional friendship between Cambodia and China.
"We look forward to intensifying high-level exchanges with China, strengthening strategic coordination, negotiating and signing a new version of the action plan for building a Cambodia-China community with a shared future as soon as possible," he said.
He added that the kingdom is committed to promoting practical cooperation with China in agriculture, manufacturing, trade and investment, tourism, and cultural exchanges, so as to build a better Cambodia-China community with a shared future.
Hun Manet said issues related to Taiwan, Xinjiang, Tibet and Hong Kong are all China's internal affairs, and Cambodia will continue to firmly abide by the one-China principle.
For his part, Wang, also a member of the Political Bureau of the Communist Party of China Central Committee, congratulated Hun Manet on being elected as the leader of Cambodia's new leadership with a high number of votes.
He said China and Cambodia are good friends sharing weal and woe and ironclad brothers with sincerity and mutual trust.
The traditional friendship between China and Cambodia, which has been carefully cultivated by generations of leaders of the two countries, has stood the test of changing international circumstances and remains unbreakable, he added.
Wang said facts have proved that Cambodia's friendly policy toward China is fully in line with Cambodia's fundamental and long-term interests.
He added that China is willing to forge close ties with Cambodia's new government, stay true to the original commitments, continue to advance their friendship, and work together to deepen and consolidate the China-Cambodia comprehensive strategic partnership of cooperation, so as to open a new era of the high-quality, high-level, and high-standard China-Cambodia community with a shared future.
Wang Yi said China is willing to work with Cambodia to prepare for high-level exchanges in the next stage, better synergize the Belt and Road Initiative with the Pentagon Strategy proposed by the Cambodian government, and help Cambodia accelerate industrialization and agricultural modernization.
The two sides should strengthen the exchanges and experience sharing in state governance, promote law enforcement and security cooperation, ensure the success of the "China-Cambodia Friendship Year" series of activities, expand the exchanges in culture, youth and sister cities between the two countries, and further consolidate public support for China-Cambodia friendship, he added.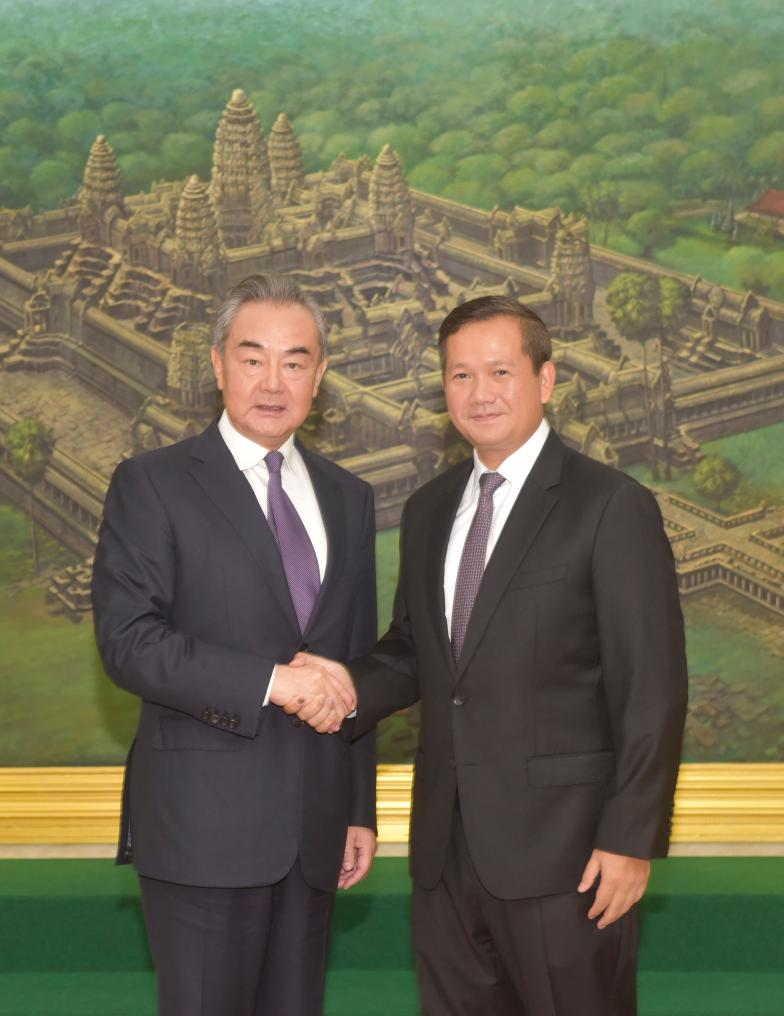 Cambodian Prime Minister-designate Hun Manet (R) meets with visiting Chinese Foreign Minister Wang Yi, who is also a member of the Political Bureau of the Communist Party of China Central Committee, in Phnom Penh, Cambodia, on Aug. 13, 2023. (Photo by Kok Ky/Xinhua)