Thailand's annual science and technology exhibition kicked off in Bangkok on Friday, aiming to promote cooperation in science and technology between Southeast Asia and the global forefront.
Led by the Chinese Academy of Sciences Innovation Cooperation Center (Bangkok), over 30 Chinese enterprises and organizations participated in the exhibition.

The China Pavilion's presentation highlights cutting-edge joint efforts in key sectors like infrastructure, space technology, healthcare, sustainability, and education between the two countries.

At the opening ceremony, Thai Deputy Prime Minister and Foreign Minister Don Pramudwinai underscored the government's acknowledgment of the vital role played by advancements in society, economy, and science and technology, underscoring Thailand's dedication to fostering overall progress through innovation.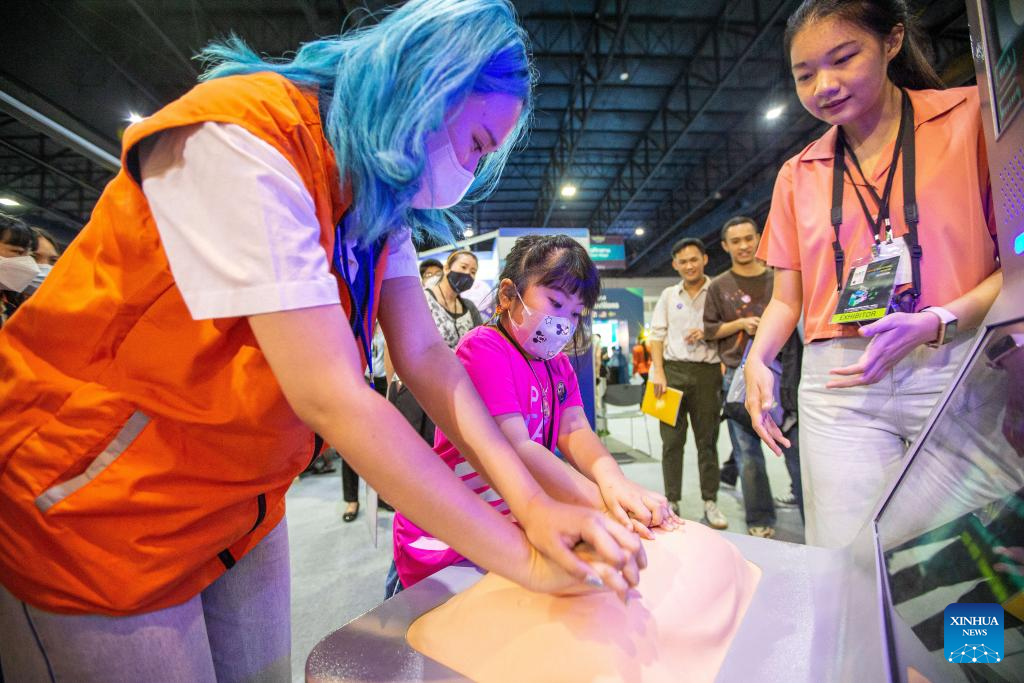 A child experiences an AED-CPR machine at the China Pavilion of Thailand National Science and Technology Fair 2023 in Bangkok, Thailand, Aug. 11, 2023. Thailand's annual science and technology exhibition kicked off in Bangkok on Friday, aiming to promote cooperation in science and technology between Southeast Asia and the global forefront. Led by the Chinese Academy of Sciences Innovation Cooperation Center (Bangkok), over 30 Chinese enterprises and organizations participated in the exhibition. (Xinhua/Wang Teng)
A visitor experiences a VR interactive system at the China Pavilion of Thailand National Science and Technology Fair 2023 in Bangkok, Thailand, Aug. 11, 2023. Thailand's annual science and technology exhibition kicked off in Bangkok on Friday, aiming to promote cooperation in science and technology between Southeast Asia and the global forefront. Led by the Chinese Academy of Sciences Innovation Cooperation Center (Bangkok), over 30 Chinese enterprises and organizations participated in the exhibition. (Xinhua/Wang Teng)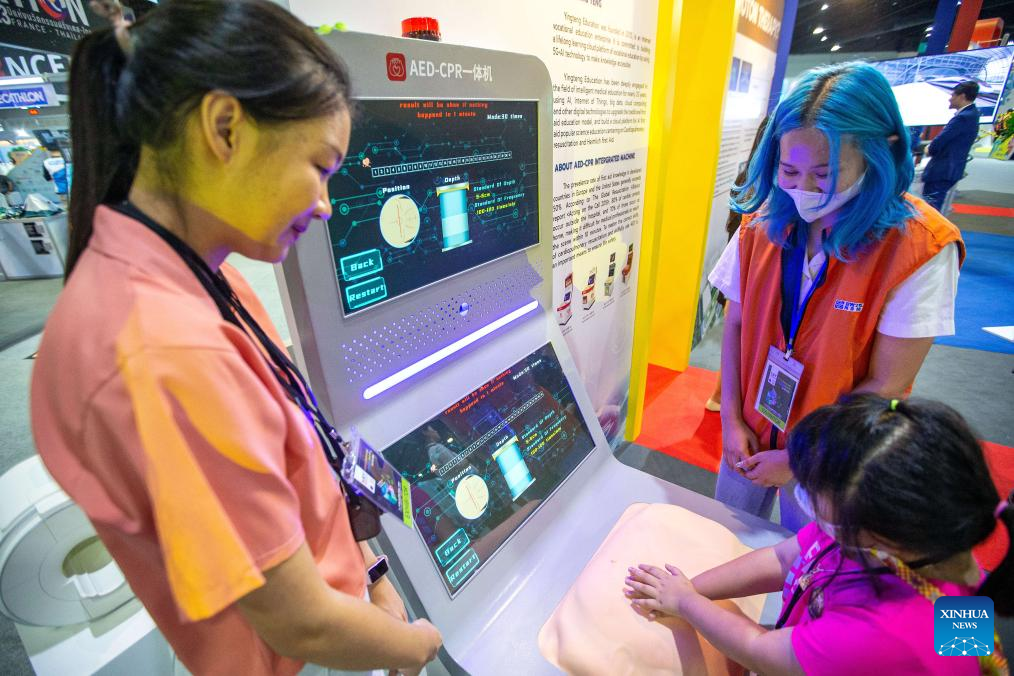 A child experiences an AED-CPR machine at the China Pavilion of Thailand National Science and Technology Fair 2023 in Bangkok, Thailand, Aug. 11, 2023. Thailand's annual science and technology exhibition kicked off in Bangkok on Friday, aiming to promote cooperation in science and technology between Southeast Asia and the global forefront. Led by the Chinese Academy of Sciences Innovation Cooperation Center (Bangkok), over 30 Chinese enterprises and organizations participated in the exhibition. (Xinhua/Wang Teng)