Supaporn Raknim, a 36-year-old resident of Thung Song County in Thailand's southern Nakhon Si Thammarat province, eagerly expects the early operation of new transmission lines constructed by China.
"Here, we experience power outages several times a year, especially during the rainy season, and sometimes it can last for half a day," she said, hoping her family will no longer be bothered by darkness and high temperatures due to power cuts.

On the hills of Sam Tambon stand brand new power transmission towers that symbolize the hope of stable electricity supply for residents in southern Thailand. Below these towers, the staff of China's Henan Electric Power Transmission & Transformation Construction are working meticulously.

According to Project Manager Ma Wenhe, the tower erection was completed in late July, and the wire installation is expected to be finished in October, with the entire project scheduled for completion and delivery later this year.

The Thung Song-Songkhla 500kV Transmission Line Project, known as the Thung Song Project, is undertaken by Henan Electric Power Transmission & Transformation Construction. The 50-million-U.S. dollar power line spans 105 km from Nakhon Si Thammarat Province in southern Thailand to Phatthalung Province.

Xu Jian, deputy manager of the Overseas Engineering Division at the Chinese power company, said, "In line with the Electricity Generating Authority of Thailand's 2030 vision, Thailand is committed to becoming a Southeast Asian electricity trading hub. The completion of the Thung Song Project will greatly promote regional power connectivity."

"Ten years ago there was a widespread power outage in southern Thailand, and in recent years the local power demand has continued to increase. That's why we decided to build the Thung Song Project and chose a Chinese company for the construction," said Chakrit Parnitchob, chief of the Transmission Line Construction Project Department for Foreign Power Transmission Line Construction for Independent Power Producers at the Electricity Generating Authority of Thailand.

He said that during their collaboration the Thai side has acquired high-quality transmission lines and excellent project management experience. This serves as an example of friendly neighboring countries working together for development.

Since its first overseas project in 1985, Henan Electric Power Transmission & Transformation Construction has undertaken grid construction projects in Kuwait, Bangladesh, Zambia, Ethiopia, Laos, and many other countries. However, exploring international markets also means facing unknown difficulties and challenges.

"The Thung Song Project not only faces challenges from the high rainfall and difficult excavation of rocky terrain in southern Thailand but also has been impacted by the COVID-19 pandemic, with manufacturers unable to meet the original production plans and shipping costs rising," said Ma.

To ensure the smooth progress of the project, he and the suppliers have gone through 13 rounds of negotiations, while the Chinese colleagues have been persistently stationed at the construction site.

In the eyes of the Chinese overseas engineers, a sense of responsibility for their work coexists with yearning for their homeland.

Ma's wife is a nurse in the Respiratory and Critical Care Department at the First Affiliated Hospital of Zhengzhou University, central China's Henan province. During the COVID-19 pandemic when his wife fought on the frontline against the virus, Ma was thousands of miles away in Thailand. They only met three times in the years.

"Our children are still young and the elders are not in good health. But when you choose this profession, you must stick to it," Ma said, looking forward to returning home after the project's completion.

There is a picture painted by a Thai student near the completion schedule board at the project office. It depicts the national flags of China and Thailand flying between two transmission towers. This artwork was a gift from Thai students on the first anniversary of the Thung Song Project when Chinese workers donated stationery and sports supplies to a school in Nakhon Si Thammarat province.

Chinese companies are actively participating in international projects while striving to shoulder social responsibilities in host countries. "The Thung Song Project is not only a livelihood-improving project for the local community but also an extension of Chinese-Thai cooperation and friendship," Ma said.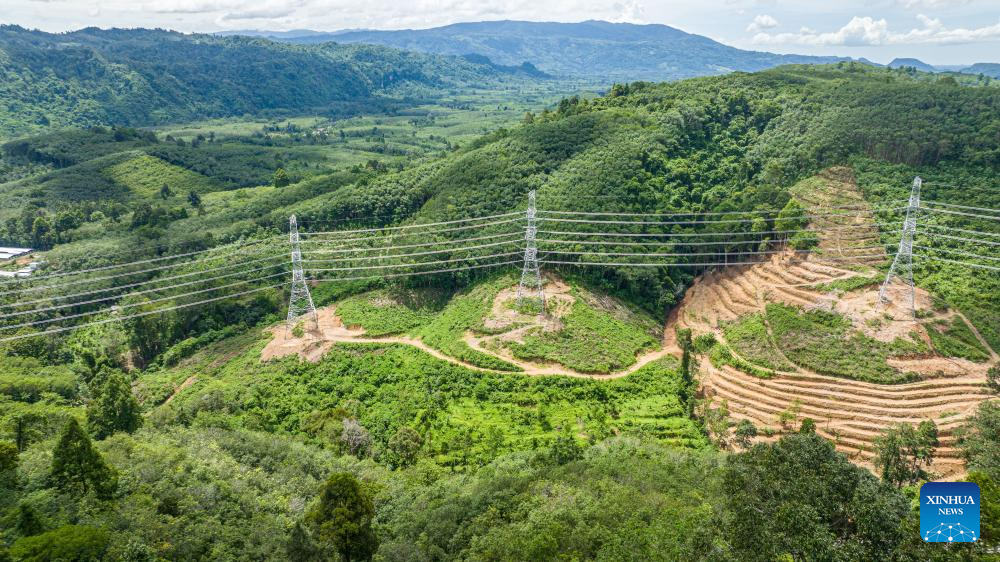 This aerial photo taken on July 11, 2023 shows the power transmission towers in Nakhon Si Thammarat, Thailand. (Xinhua/Wang Teng)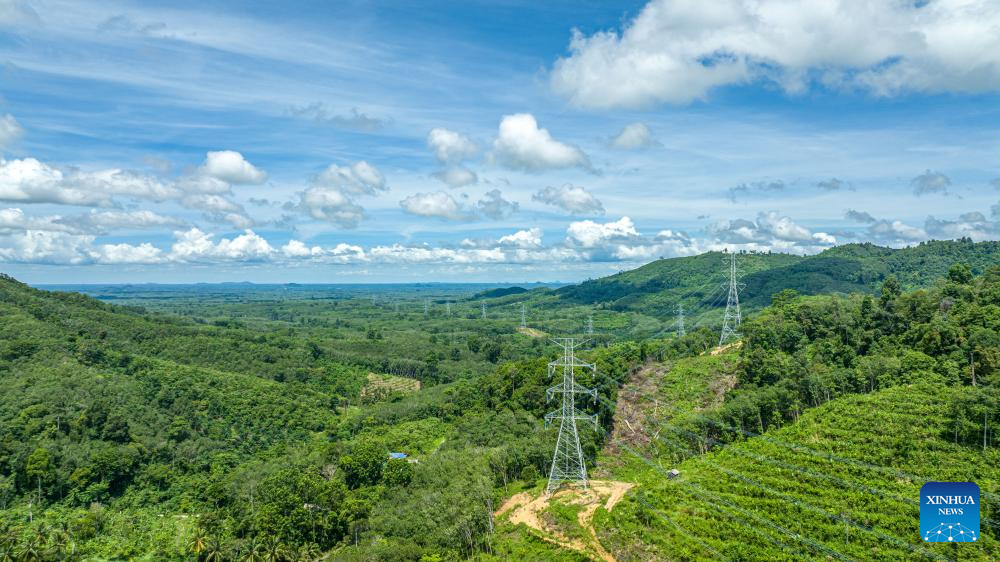 This aerial photo taken on July 11, 2023 shows the power transmission towers in Nakhon Si Thammarat, Thailand. (Xinhua/Wang Teng)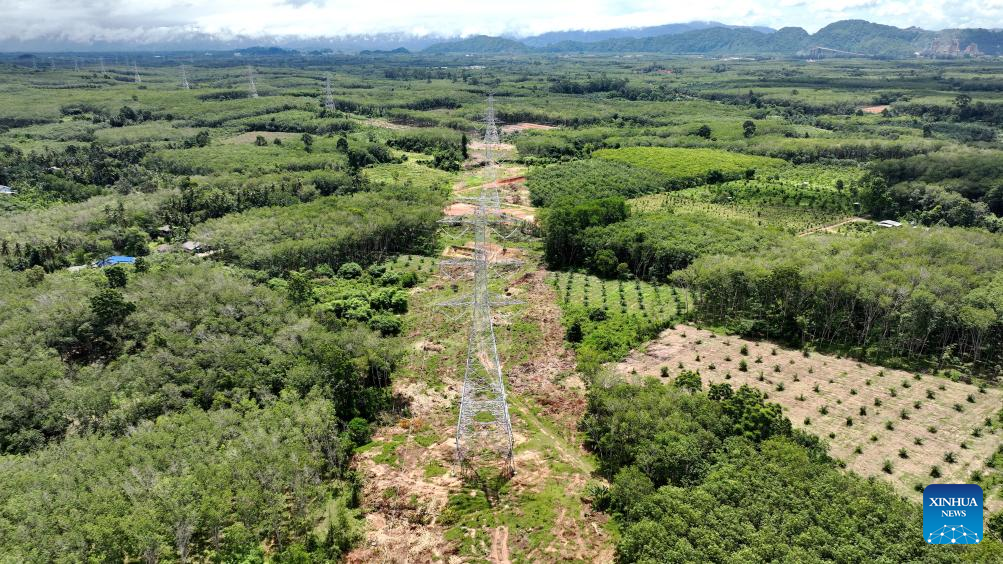 This aerial photo taken on July 11, 2023 shows the power transmission towers in Nakhon Si Thammarat, Thailand. (Xinhua/Wang Teng)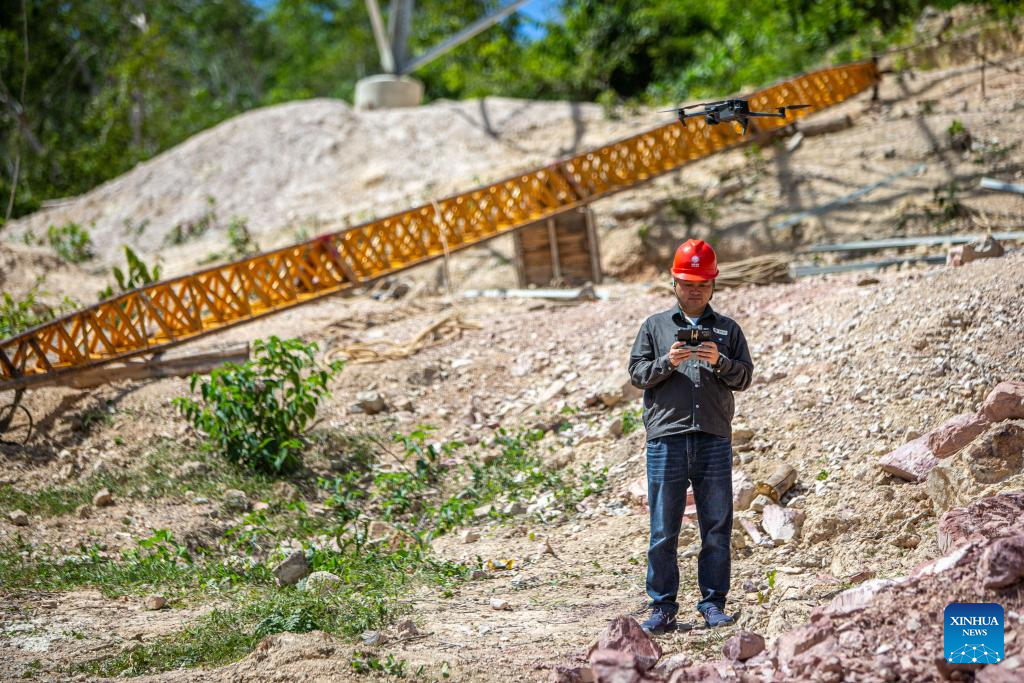 Ma Wenhe uses a drone to patrol power transmission towers Nakhon Si Thammarat, Thailand, July 12, 2023. (Xinhua/Wang Teng)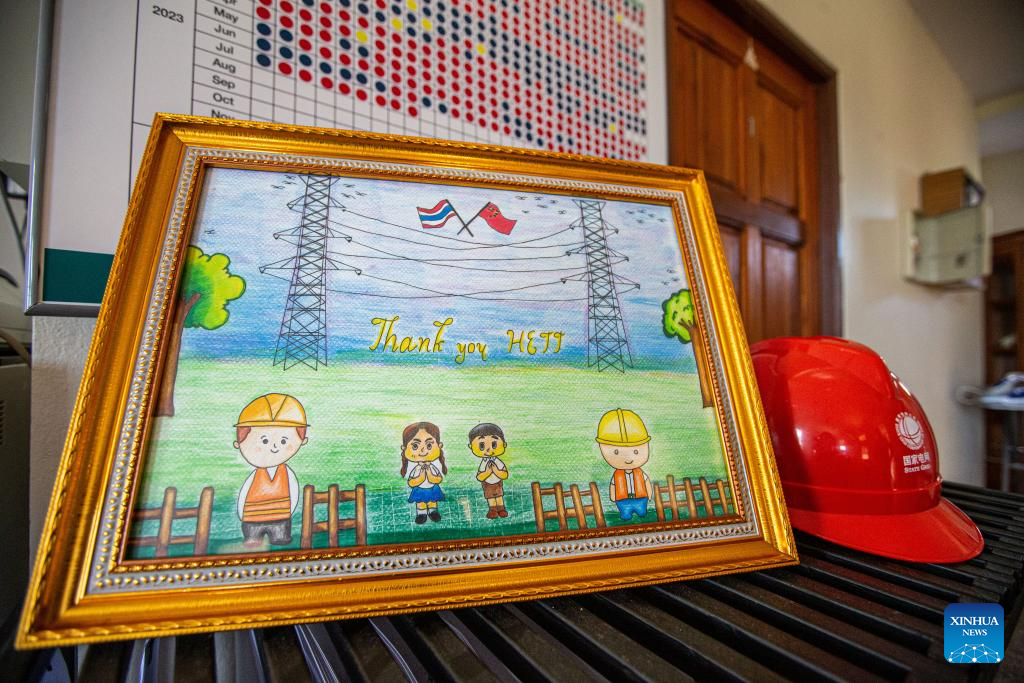 This photo taken on July 11, 2023 shows a painting of a Thai student at the project office of the Thung Song Project in Nakhon Si Thammarat, Thailand. (Xinhua/Wang Teng)