Cambodian Prime Minister Samdech Techo Hun Sen Meets with Wang Yi
fmprc.gov.cn, August 4, 2022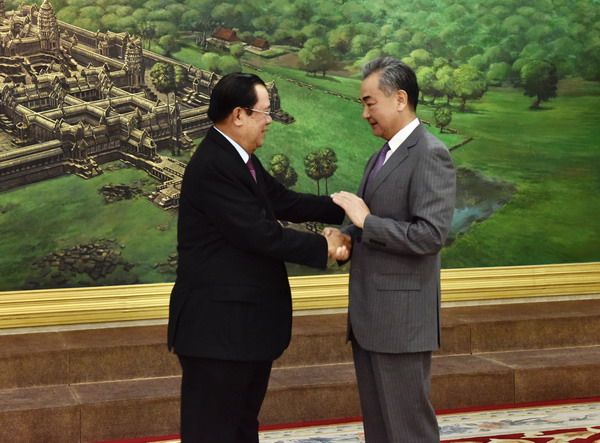 On August 3, 2022 local time, Cambodian Prime Minister Samdech Techo Hun Sen met with State Councilor and Foreign Minister Wang Yi in Phnom Penh.
Hun Sen asked Wang Yi to convey his sincere greetings to Chinese leaders, and wished the 20th National Congress of the Communist Party of China a complete success. He stressed that Cambodia is firmly committed to the one-China principle and holds that Taiwan is an inalienable part of China's territory. Cambodia resolutely opposes any words and deeds that infringe on China's sovereignty and territorial integrity, and will continue to firmly support China in safeguarding its core interests, and stand firm together with the 1.4 billion Chinese people.
Hun Sen said that the "ironclad" friendship between Cambodia and China has taken root in the two countries, and the Belt and Road cooperation has yielded fruitful results, bringing huge benefits to the people. The two countries have joined hands to fight the pandemic, and the Chinese vaccines have effectively helped Cambodia to protect the people's lives and health, accelerate economic recovery and restore normalcy to social life. The two sides will jointly commemorate the 100th birthday of King Father Norodom Sihanouk and celebrate the 65th anniversary of the establishment of diplomatic relations between the two countries. Cambodia hopes that the two sides will further advance the building of a Cambodia-China community with a shared future, foster greater synergy between development strategies, and strengthen cooperation in such fields as economy, trade, infrastructure, minerals, energy, agriculture and defense.
Wang Yi conveyed Chinese leaders' cordial greetings, noting that Cambodia has followed a development path suited to its national conditions, winning extensive support from its people, safeguarded national independence and dignity, and played an ever-increasing role in international and regional affairs. China-Cambodia friendship has stood the test of international vicissitudes and turbulence, and remained as rock solid and unbreakable as ever, sharing a closely connected common future. China appreciates Cambodia's firm commitment to the one-China principle and its support for China's effort to safeguard core interests. China is also a trustworthy partner firmly standing behind Cambodia in its effort to seek development and revitalization. China is ready to work with Cambodia to safeguard the respective sovereignty, security and development interests of the two countries, to uphold the principle of non-interference in other countries' internal affairs, which is a basic norm governing international relations, and to defend international fairness and justice. China will also work with Cambodia to deepen strategic communication and carry forward the traditional friendship, so that the friendship between China and Cambodia will be passed on from generation to generation with enduring vitality.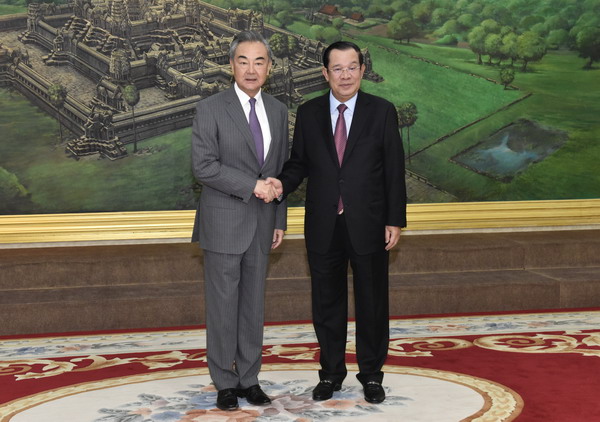 Wang Yi said the high-quality Belt and Road cooperation between China and Cambodia has kept burgeoning and borne fruitful results, showing broad prospects for development. The two sides should firmly keep to the direction of jointly building a community with a shared future, and constantly upgrade all-round cooperation. China expects that China-Cambodia relations will stay at the forefront of China's relations with regional countries. China will continue to provide sufficient vaccine assistance to Cambodia as needed, import more quality agricultural products from Cambodia, and increase flights from Cambodia to China to facilitate the return of Cambodian students to China to continue their studies.
Wang Yi stressed that the provocative act of the US on the Taiwan question is not accidental, but a deliberately planned farce, which has laid bare its ugly face of treachery. The United States' attempt to use Taiwan to contain China will by no means succeed, nor will it reverse the historical trend that Taiwan will inevitably return to the motherland. It will only spur the 1.4 billion Chinese people to stay more united and speed up the development of a great modern socialist country with Chinese characteristics. The Taiwan question arose when China was weak and chaotic, and will surely end with national rejuvenation. The"Taiwan independence" forces will surely be judged by history.
Both sides stated that they will step up communication and coordination on regional affairs, stick to the ASEAN-centered regional cooperation architecture, and oppose attempts to bring bloc confrontation into the region and to coerce countries to pick sides.
The two sides also exchanged views on the Myanmar issue and the Ukraine crisis, among others.