Wang Yi Meets with Cambodian Deputy Prime Minister and Foreign Minister Prak Sokhonn
fmprc.gov.cn, June 11, 2021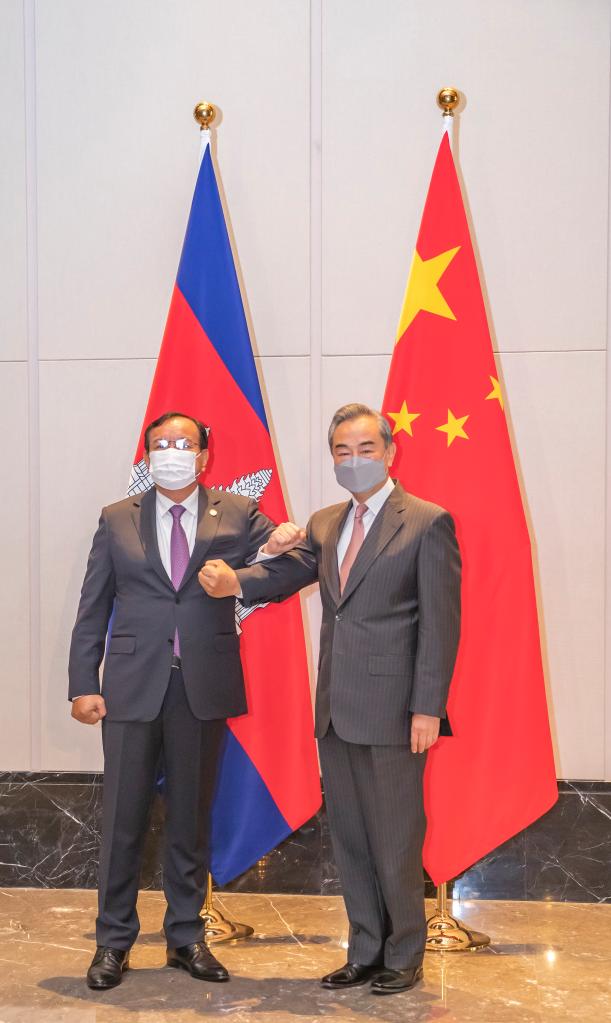 On June 8, 2021, State Councilor and Foreign Minister Wang Yi met with Cambodian Deputy Prime Minister and Foreign Minister Prak Sokhonn, who pays his working visit to China, in Chongqing.
Wang Yi said, as all-weather iron friends and close partners, China and Cambodia have always helped and firmly supported each other. Last year, the two countries joined hands to fight the COVID-19 pandemic and promoted high-level exchanges and cooperation across the board. President Xi Jinping met with Cambodian King Norodom Sihamoni, conferred the Friendship Medal of the People's Republic of China to Queen Mother Norodom Monineath Sihanouk, and maintained strategic communication with Cambodian Prime Minister Samdech Techo Hun Sen. These efforts fully demonstrated the unbreakable traditional friendship between China and Cambodia and pushed forward the building of a China-Cambodia community with a shared future.
Wang Yi said, this year marks the centenary of the Communist Party of China (CPC) and the 70th anniversary of the founding of the Cambodian People's Party. China-Cambodia comprehensive strategic partnership of cooperation will enter a new stage of development. China is ready to work with Cambodia to fully implement the action plan of the China-Cambodia community with a shared future and open up new prospects for the development of bilateral relations in line with the high-level strategic consensus reached by the two countries. China will, as always, firmly support Cambodia in pursuing a development path that suits its national conditions, support Prime Minister Hun Sen and the Cambodian people in safeguarding national sovereignty and national dignity, and support the Cambodian government in its efforts to develop the economy and improve people's livelihood.
Wang Yi said, China pays close attention to the recent development of the pandemic in Cambodia and is ready to take Cambodia as a priority in foreign vaccine cooperation. China will overcome difficulties and give full support to Cambodia in overcoming the pandemic. He hopes that the two sides will push for the early implementation of the China-Cambodia Free Trade Agreement and inject new impetus into practical cooperation between the two countries. China stands ready to synergize its development strategies with Cambodian side, steadily advance the construction of major projects, set a high-quality cooperation model for Belt and Road cooperation, and step up cooperation on law enforcement and security.
Wang Yi stressed that China's development is a growing force for peace and justice and a growing power of developing countries. China will make even greater contribution to peace, stability and development of the world, especially in the Asia-Pacific region. China thanks Cambodia for removing interference and always firmly supporting China's legitimate position on the international and regional arenas. China will continue to stand with Cambodia without hesitation on issues concerning its core interests and major concerns. The two sides should firmly support multilateralism and the international system with the United Nations at its core, uphold the purposes and principles of the UN Charter and safeguard the common interests of developing countries.
Noting Cambodia will assume the rotating presidency of ASEAN next year, Wang Yi said that China is ready to work with Cambodia to push for new and greater development of China-ASEAN relations.
Prak Sokhonn warmly congratulated China on the 100th anniversary of the founding of the CPC. He said that over the past 100 years, under the leadership of the CPC, China has made remarkable achievements, achieved its first centenary goal on schedule, won the battle against poverty and completed the building of a moderately prosperous society in an all-round way, which fully proves that China is following a completely correct path. Cambodia always adheres to the one-China policy and opposes interference in China's internal affairs by any external forces. Noting supporting China in safeguarding its legitimate rights and interests means supporting fairness and justice, Prak Sokhonn said that Cambodia will continue to work closely with China on international occasions.
Prak Sokhonn thanked China for its support for Cambodia to respond to pandemic and promote economic recovery. He hopes to continue to work with China to combat the pandemic, deepen cooperation in agriculture, education, infrastructure, information and communications, accelerate the development of Cambodia-China free trade area, jointly enhance high-quality Belt and Road cooperation, make solid progress in ASEAN-China and Lancang-Mekong cooperation, and constantly inject new content into the building of a Cambodia-China community with a shared future.
The two sides also exchanged views on international and regional issues of common concern.
After the meeting, Wang Yi and Prak Sokhonn jointly inaugurated the Consular Office of the Chinese Embassy in Cambodia in Sihanoukville.