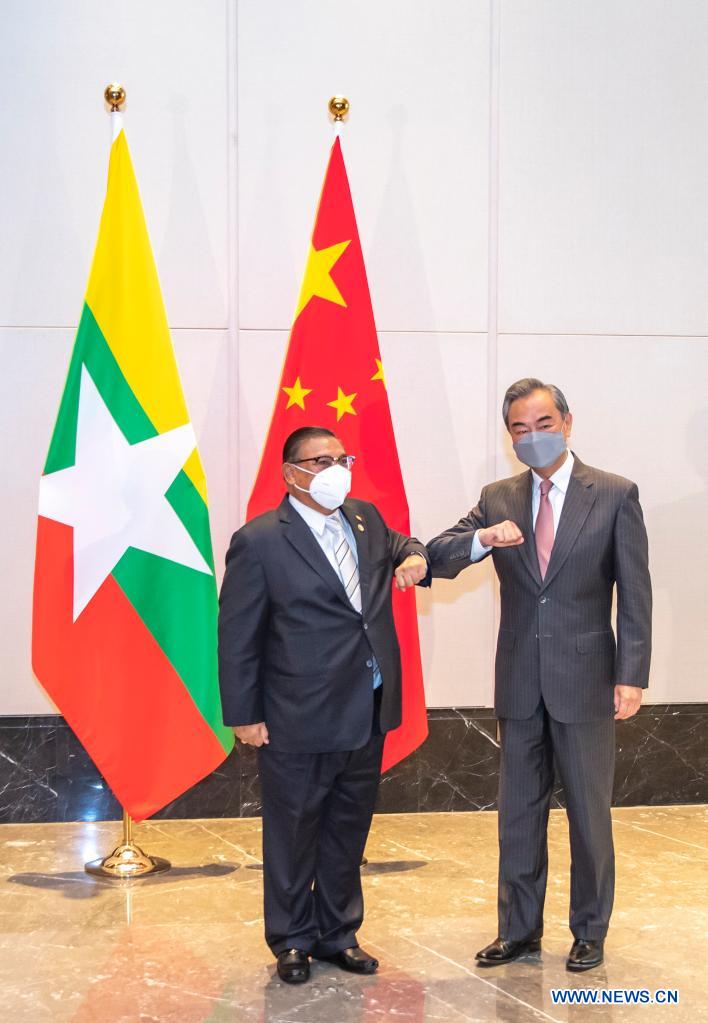 On June 8, 2021, State Councilor and Foreign Minister Wang Yi met with Myanmar's Foreign Minister U Wunna Maung Lwin, who pays his working visit to China, in Chongqing.
Wang Yi said that June 8 marks the 71st anniversary of the establishment of China-Myanmar diplomatic relations. Over the past 71 years, the people of China and Myanmar have stuck together and helped each other, carrying forward our millennia-old "pauk-phaw" friendship. China's friendly policy toward Myanmar is not affected by changes to Myanmar's domestic and external situation and is always for Myanmar's people. China has supported, is supporting and will support Myanmar in choosing a development path that suits its own circumstances. China stands ready to work with Myanmar to follow the Five Principles of Peaceful Coexistence advocated by both sides, push forward the building of a China-Myanmar community with a shared future, bring benefits to the two countries and peoples, and safeguard regional peace and stability.
Wang Yi stressed that China supports all parties of Myanmar in resolving differences through political dialogue, implementing the Five-Point Consensus reached with ASEAN, preventing future recurrence of violence, restoring social stability of the country as soon as possible, and resuming the democratic transformation under the Constitution and legal framework. China will continue to support Myanmar in fighting the pandemic, provide vaccines and medical supplies, help the country in protecting public health, and enhance cooperation on joint pandemic prevention and control with Myanmar in border areas.
U Wunna Maung Lwin briefed on the situation in Myanmar and said his country is committed to safeguarding national stability and social peace. He appreciated China's support for Myanmar's peace and reconciliation process and expressed his willingness to keep communication with the Chinese side in this regard.
U Wunna Maung Lwin thanked China for providing genuine support for Myanmar's pandemic control, and said China has always been Myanmar's close friend and good neighbor. Myanmar will resolutely deepen the "pauk-phaw" friendship between the two countries and will continue to work with China to fight the pandemic, deepen cooperation and promote the building of a Myanmar-China community with a shared future. As an ASEAN member, Myanmar supports the elevation of ASEAN-China relations and the upgrading of the Lancang-Mekong Cooperation (LMC), and will make robust efforts with all parties for that goal.